Events
Fashion
2015 WAS A ROCKING YEAR FOR THE CURVY REVOLUTION, BUT 2016 WILL BE MORE SUCCESSFUL!
The year 2015 was already a great year for curvy women. So many things happend that we never thought were possible a few years ago. But they happened and they changed important things regarding the perception of curvy women.
FIRST LET'S SEE WHAT HAPPENED IN 2015:
ASHLEY PART 1 – ASHLEY GRAHAM WAS THE FIRST PLUS SIZE MODEL TO BE FEATURED IN SPORTS ILLUSTRATED
Ashley Graham said about this achievement:
'I know my curves are sexy and I want everyone else to know that theirs are too.
'There is no reason to hide and every reason to flaunt. The world is ready for more curves in bikinis.
'Swimsuitsforall helps women feel confident and sexy in swimsuits and I am so thrilled to be a part of the Curves in Bikinis campaign!' ~Daily Mail

Even though Ashley was only seen on an advert in the magazine and her fellow model Robyn Lawley became the first official curvy model to work for Sports Illustrated Swimsuit, for me her breackthrough is more important since she is bigger than Robyn.
ASHLEY PART 2 – ASHLEY GRAHAM COLLECTION ON THE NEW YORK FASHION WEEK FOR ADDITION ELLE
Ashley Graham has since a few years her own collection with Addition Elle and in the year 2015 she appeared with this collection also at the New York Fashion Week:
Now some people might hint out that this is not high fashion and these things don't belong to the New York Fashion Week. I disagree! Every company that can pay the price of being part of the NY Fashion Week has to gain our respect for that, because it is a really expensive investment. And they would not be the only company making an overpriced show just to sell later "cheap" clothes. Just think about the money Victoria Secret spends on their show each year. The most expensive item on the show is only a bra with diamonds on it. The other lingerie is actually very cheap – just look at their website: https://www.victoriassecret.com/.
ASHLEY PART 3 -#IMNOANGEL & #PLUSISEQUAL BY LANE BRYANT
https://www.youtube.com/watch?v=RwxYW6mlTPk
Let's face it, Ashley Graham is the TOP CURVY MODEL of our time! She was already in the news with her first lingerie advertisement years ago, which was banned later. And she will always be in the news with any new campaign or collection she is doing, because she works with the right companies who know you need a message to sell your products. Lane Bryant is one of these great companies who had two important campaigns running to increase the media attention for plus size women. With these campaigns all the big magazines wrote about her, even the Vogue Magazine.
TESS HOLLIDAY GETTING SIGNED BY MILK MODEL MANAGEMENT AND APPEARING IN PEOPLE MAGAZINE
This news was, for a model like me, just great to read. Tess Holliday is as tall as I am with almost the same size and she still got signed by Milk Model Management Agency. Robyn Lawley is also under this UK agency. So she is in good company! Tess is the plus model with the most likes on all social media pages, because she is not scared to be controversial. She might get bullied a lot, but this is what helped her to succeed!
#BEACHBODYNOTSORRY WITH DENISE BIDOT FOR SWIMSUITSFORALL
After the #CURVESINABIKINI campaign with Ashley Graham, Swimsuits For All decided to make another campaign called #BEACHBODYNOTSORRY. They choosed for this curvy model Denise Bidot and showed a promo of her without any editing of the skin. They showed her natural body. We have to accept that every curvy body has flaws like cellulitis. But this doesn't mean that a model like Denise is less good. She has proved for many years that she is a great model!
"There is no wrong way to be a woman" ~ Denise Bidot
See here our former post about the campaign here. And here is our album on facebook of fans supporting the campaign.
ASHLEY NELL TIPTON WINS PROJECT RUNWAY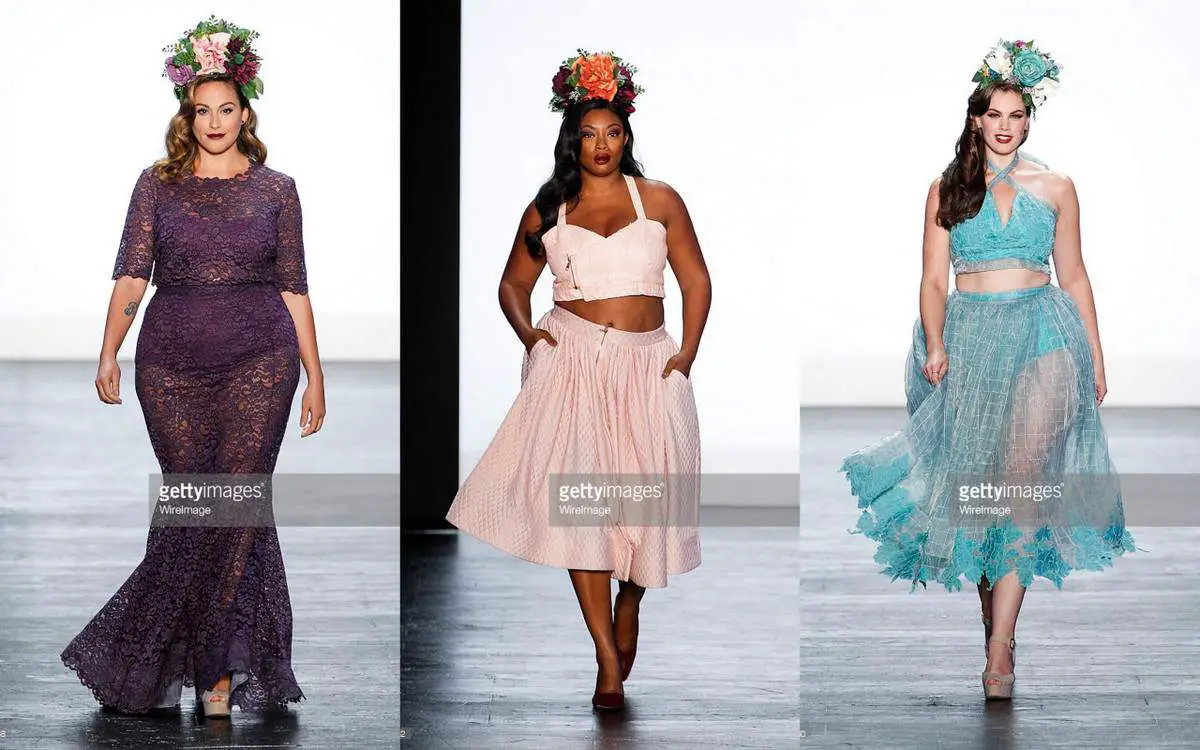 How cool was it to see plus size models walking at the New York Fashion Week for the Project Runway show. But it got even better, because plus size designer Ashley Nell Tipton even won in the end.
"It's nice to see how much the mainstream fashion community has been so accepting of it," …."It's very exciting to see that folks finally want to make plus-size mainstream."~Skorch Magazine and People Magazine
I was happy to see curve models I know, like Liris Crosse, Danielle van Grondelle, Chloe Marshall and Lornalitz Baez, walking the stage.
See all the pics here.
ADELE COMEBACK AND HER COVER ON THE TIME MAGAZINE

Adele had her comeback finally after all those years of being outside the public. Adele does not only have one of the best voices from the UK, but she is also already a plus size celebrity icon and I was so happy to see that she is back. Her song "HELLO" is still everywhere in the news and I know some of you can't even hear it anymore. Well, I don't care. Her album was breaking selling records already in the first week.  She even managed to get her first Time Magazine cover, so her comeback is a huge success after all.
GREAT THINGS THAT ALREADY HAPPENED IN 2015 BUT THAT WILL ALSO EFFECT 2016:
AMY SCHUMER AND SERENA WILLIAMS FEATURED IN THE PIRELLI CALENDAR
How cool was the decision of Pirelli to do something new for their calendar 2016. They choosed not to feature models as usuall. This time they choosed to feature the most inspiring women of the world. Women of all ages and races like comedian Amy Schumer, athlete Serena Williams, artist Yoko Ono, model and philanthropist Natalia Vodianova, actress Yao Chen who has over 70 Million followers on her chinese website. They all got photographed by Annie Leibovitz.
I loved the most that they showed the women in a natural and rather simple photographic way to show their natural personality. Especially the picture of Amy Schumer is ground-breacking in the fashion world. For so many years we are used to photoshop all flaws of women. And even women who didn't like their body wanted to get photoshopped. But Amy Schumer didn't mind to show her natural stomach. It only shows that it is all natural to have a stomach nowadays. Watch also the Behind the Scene video:
CHRISTIAN LOUBOUTIN CASTS CURVY MODEL CLEMENTINE DESSEAUX
Now a lot of great things happened already this year for curvy models, but having a model Clementine Desseaux as the face of the beauty range Rouge Louboutin by Christian Louboutin is almost ground-breacking. Critics said that it doesn't matter if she became the face of the lipstick promo, because she only has to feature her face not her body. But I have to say that it is a great achievement for a curvy model. Clementine's unique look with her curves and her freckles symbolizes in a perfect way natural beauty. And even if she doesn't show her curves in this spot you can still see a face of a size 14 model and not a size 0 model. I think that Christian Louboutin made the most perfect choice to have her as the rolemodel for his beauty brand.
Order your own Rouge here.
BETH DITTO DESIGNS HER FIRST PLUS SIZE CLOTHING LINE WITH JEAN PAUL GAULTIER

Just before the year 2015 was over the next amazing headline appeared. And I thought it can't get any better. I am glad that I was wrong. Beth Ditto announced that she will bring out her own first plus size collection in co-operation with Jean Paul Gaultier. Now we already know that Jean Paul loves all women, no matter what size or age they have since even our curvy idol Velvet D'Amour was walking for him years ago.
But making a collection with Beth Ditto clearly is an amazing thing. The design they choosed is a t-shirt collection with the famous corset by Jean Paul Gaultier worn by Madonna – like in this link.
Sure the big t-shirt might not be figure-enhancing, but you can still  ake it more tight in the back. Overall I must say the idea is great, funny and has a great fashion rock style. I would surely want to wear it!
GREAT THINGS HAPPENING IN GERMANY FOR 2016:

SILVANA DENKER'S #BODYLOVE CAMPAIGN CONTINUES AND GOES INTERNATIONAL
We already asked you to support the #BODYLOVE campaign by Silvana Denker. And the reason for this is that she needs to finance her trips all by herself. To make Silvana's dream come true to go international show your support here.
Her campaign got international attention by the media already. This shows how much people want to see natural women. Therefore I am sure with our support she will change the minds of the people worldwide. And we totally want to see more news of #bodylove like in the collection below.
PLUS SIZE FASHION DAYS SHOW AND AWARDS 2016
Plus Size Fashion Days already had a special award ceremony during the show in 2015. And I think it is a great idea to award the best blogger, the best fashion brand and the best plus size model national and international.
The show developed from a idea by CEO and Founder Tanja Marfo 3 years ago. I attented every show since then. I can tell you it got better every year. Therefore I am excited to see how much better it will become in 2016.
CONCLUSION
All the headlines from last year show that the fashion world finally recognizes plus size women as an important target. We are new hip and trendy, so either you follow us or use us for your promotion or you will be regarded as old-fashioned. And no teen likes old-fashioned stuff. The future for curvy women is bright and I am sure more brands will understand this in the near future!
Have a good time and always remember to love your body and love yourself,