This years Grammys were very interesting and surprising!
You would have expected that Beyonce would win again, but….WRONG!
You would have expected that Kanye and Kim would show up again, but….WRONG!
You would expect that every performance will work out well, but…WRONG AGAIN partially!
But first, let's talk about the most important people of last nights show:
ADELE
Adele became the winner of Album of the Year, but she said that she cannot accept the award when Beyonces album was so much better. Adele turned out to be a huge fan of Beyonce and even ripped her award in two pieces to give Beyonce on part of it. I must say I never saw a female winner being so nice and kind as Adele was last night!
Beyonce's reaction to Adele's speech was also very touching.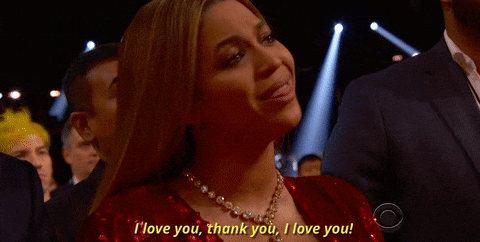 Which is why Adele became the first queen of the night! She wore a dresses from the fashion label Givenchy.
BEYONCE
Beyonce herself became the second queen of the night! Presenting her beautiful pregant body the way she did it was amazing. I loved her red dress, I loved her outfit for her acceptance speech and all her looks from her performance. She looked like an acient african or egyptian fertility goddess. All the outfits she wore were done by Peter Dundas and the headpiece was from House of Malakai.
JAMES CORDEN
James Corden really rocked the show in the beginning with his performance. It was really funny and his attitude to still rock the stage only while wearing a smoking, a shirt, shorts and socks was awesome. He slayed! I found his look so great and since the band Twenty One Pilots also wore this look for their acceptance speech, but in their case it was just a promsie they gave themselves to show up like that if they ever win a Grammy.
Nevertheless, I am having the feeling that this could become a trend. 😀
Which plus size male blogger wants to try out this looks too for fun???
CURVES ON THE RED CARPET LOOKS
These are the other looks of the stars which I liked a lot! Rihanna might not be plus size, but I still love her look a lot.
TRYING WAY TOOO HARD LOOKS
I decided to rename the the section of the bad or failed looks. I have learned by now that everything is fashion and art. Litterally everything! That is why I decided to rename this just in the 'Trying way too hard' looks. The stars who end up in this section just don't look good or choosed the wrong message for their look, which ended up in social media ridiculing them. The reason for them to choose these outfits is to get some attention. I can respect that they want the attention and I don't mind to give them that, but luckily I don't need to agree with them on their decision. Besides that I still love the ideas they had.
Which star touched you the most last night? Who was your favourite?
This is it! What more can I say to pay a tribute to Michael Jackson. I loved that the stars made tributes to so many stars and even if Adele had to restart her tribute to George Michael it was still better afterwards!
Now I am excited to see what Beyonce will do next year. 😉
Kind regards,
Lyz Lupo
Picture Source: www.dailymail.co.uk/